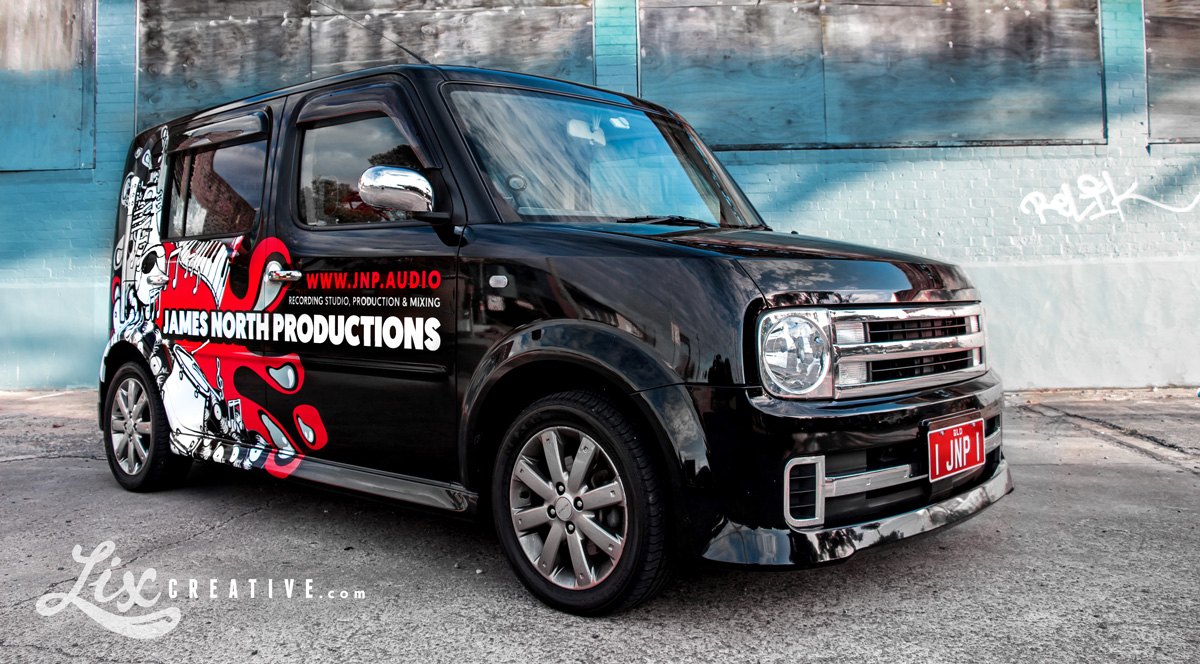 Just had a blast illustrating a wild music-themed vehicle wrap for the James North Productions Nissan Cube! This particular Nissan Cube Cubic Rider is a special car, with a slightly longer wheel base than the standard Z11 Cube, full body kit, 15″ Autech chrome mags,  and 1.5L engine with CVT transmission – imported directly from Japan by James. Without the wrap it was unique machine and a real head-turner, WITH the wrap it's a show-stopper!
I began by drawing up a vector blue-print of the back and sides of the Cube. Each little element of the illustration (instruments, notes, splashes etc) was drawn in pen and ink, scanned and converted to vector. I then worked up the composition, piece by piece, over the blueprint. Working with the asymmetry of the Cube's wrap-around rear window was a lot of fun and made for some dynamic differences in the illustrations for the left and right side panels. Using the JNP company colours red, black, grey and white kept the over-all effect super tight and punchy, matching the Cube's custom interior and personalised plate.
The wrap was installed by the awesome dudes at www.alpinesigns.com.au – their team really stands out over and above other vehicle-wrap services, I couldn't recommend them more highly. They love a creative project!
© 2015 Lix Creative